Where's the beer? Post-Fiona Update
Why are shelves empty of Upstreet products? Where's the beer?
Like most everyone else, Hurricane Fiona wasn't very gentle with us. During the storm, we suffered substantial damage to our roof and the boiler flue.
The operation of the boiler is an essential part of the beer brewing process – we can't make beer without a boiler. The repairs to the flue took 3 weeks, which caused a ripple effect on shelves across Atlantic Canada. In a nutshell, that means there are large holes where you used to be able to find your favourite Upstreet products. This low-key breaks our hearts.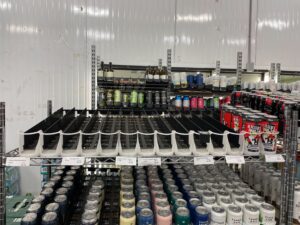 Thankfully, the craft beer scene in Atlantic Canada is equally spectacular and supportive. After making a social post about the difficulties we were facing, phone calls started rolling in from maritime breweries. Shoutout to our buds at Copper Bottom, Big Spruce and Good Robot for reaching out during a tough time to offer to help in one way or another! One call we answered was from PEI Brewing Company, offering us some tank space at their location right down the road from ours. As strange as it is to say- Third Place IIPA is currently being brewed in one of their tanks and will be canned this week. To say we are appreciative of this is a complete understatement. To us, this means everything. The fact that two competitors on the Island can have one another's backs in such a tremendous way speaks volumes. We really can't thank the entire team at PEIBC for making us feel welcome, lending us a hand, and allowing us to brew in their busy facility.
In the meantime, thank you all so much for your understanding, and your kind words over the past month. We promise, we'll get the beer back on the shelves as soon as humanly possible. Cheers to Island hospitality, friends helping friends, and beer bringing people together!